Mission & Vision
New Hope Church is a Christ-centered community for all people. Our heart is to move toward Jesus and take others with us. New Hope Church follows the Evangelical Free Church Statement of Faith.
Relational Values
We value a life-changing relationship with Jesus that is increasingly evident through devotion to Christ, delight in glorifying God, passionate worship, joyful stewardship, persistent prayer and humble servanthood. We value the Holy Bible as the foundation for truth, belief and behavior that glorifies God through loving obedience.
Outreach Values
We value expressing the gospel by sharing the Good News and living it by doing good deeds in a manner that is grace based, culturally relevant, Spirit empowered, intentionally excellent, evident to our community and extended throughout the world. We value changing and adapting to effectively grow Christ's Church and demonstrate His love to all people.
Community Values
We value biblically authentic Christian community, unity and joy in the Holy Spirit, reconciliation among people, dignity and honor for all people without preference, acts of biblical compassion and speech that honor God and encourages one another. We value demonstrating the love of God and being a blessing from him to people.
All People
We believe God created all people in his image. We believe He is Lord of all races and ethnicities. We believe his Church is composed of people "from every tribe and language and people and nation." We believe Christ has called believers together in unity. We believe that God has promised to bless those who honor and serve one another in love.
Therefore, we do not believe Jesus intends his followers to gather together in racial isolation based on the comfort level of the familiarity of skin color or ethnicity. Christ's Church is made up of many tribes and many tongues. She is the one Bride of Christ and we long to be a true reflection of this beautiful picture.
5 Strategic Points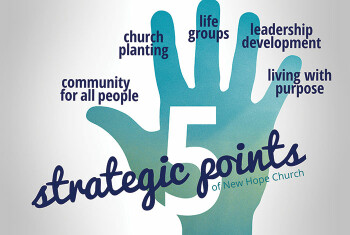 How do we live out this mission and vision? We've developed five strategic points for us to focus on as a church family. Ask the Holy Spirit to move in and through us as we walk these out together. And pray for wisdom as you discern your role in this community.
Community for all people

Church planting

Life Groups

Leadership development

Living with purpose