Four Chairs Conference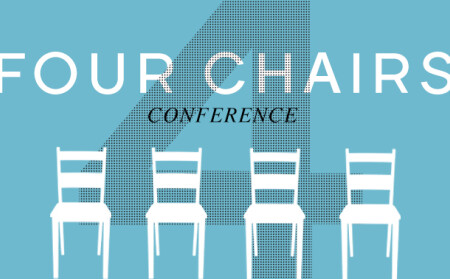 What if there's more to life? More to celebrate. More to learn. More to invest. More joy. What if all this happens as a result of moving toward Jesus and taking others with us as a way of life?
Friday, March 16, 6:30–9pm
Saturday, March 17, 8:30am–1:30pm
Do any of these sound familiar?
• I know what I "should" do, but I'm unsure how to move forward.
• I'm doing well in life, but I also want to make a difference.
• My small group is great, but I wish we were better equipped to help one another grow spiritually.
• I long to be close enough to someone to discuss deep questions.
Are you ready to explore these desires and what it means to follow Jesus and be empowered to take others with you? You'll find this is also a path toward experiencing the joy of intentional community.
The 4 Chairs Conference is designed to sharpen your vision and help you move toward Jesus and meaningful community. The best part is that it follows the example Jesus gave us in His relationship with the disciples. Teaching, engagement, reflection and interaction all provide proven discipleship principles that He modeled.
This is not a program or a cookie cutter approach. It's a framework developed to uniquely help you gain fresh perspective about who Jesus is, who you are and the relationships He's given you. It's like putting on updated glasses to help you see these relationships with fresh eyes.
The more clearly we see who Jesus is, what He's done and what He's doing, the more motivated we are to keep trusting and turning to Him.
Our prayer is for you to leave the conference better equipped to live this kind of life!
Get registration details.


Marshall Posey is Men's Ministries Director at New Hope Church. His desire is to help equip men as disciples. He loves serving the Church and seeing the Spirit of God transform a life through the Word of God.





Andrea Tyson is Women's Ministries Director at New Hope Church. She loves to invest in women who are investing in others as we continue to develop a culture of walking toward Jesus and taking others with us.