God is an Artist
Teamwork. This is a key to just about any project at New Hope Church. I'm so thankful for the talented people who make up our staff. Among those is our Creative Team that brings a wide array of experience from drawing, painting, graphic design, typography, photography, content creation, staging, video, lighting and more. Talk to any member of this team and you'll hear the passion they have for using their gifts to draw people closer to God.
This summer, the Creative Team welcomed intern Nael Kaligis. You've possibly seen him involved in anything from cutting out giant letters for the Influence series, to helping create the children's newly-designed space, to drawing the shepherd for the Yahweh, Shepherd of Me message series. Nael expressed a passion for artistically expressing God's story and instantly fit right into the team.
"I wouldn't say I'm Picasso or anything, but I believe God gifted me to see things through a more creative lens. I've been privileged to create art for His purpose while intentionally focusing this year on listening for God's direction for my future. This internship gives me an opportunity to observe professionals in this field while serving in a Christ-centered church. I thought this was the best idea ever for an 18-year-old dude in need of some spiritual wisdom and knowledge! The staff is just so encouraging and awesome.
The drawing for the Yahweh series is one of the toughest things I've ever had to create. I'm used to creating my own artwork. It's really different when you have a team of equally talented people working together. There's a lot of thought and effort put into the design even before the series begins."
Nael took on the challenge as the team asked God to direct this project. As each team member shared their unique gifts and ideas, a beautiful depiction of the body of Christ rose to the surface. The collaboration is a wonderful expression of Ephesians 4 and 1 Corinthians 12. In fact, we've found that some of the most engaging visual arts projects have flowed out of the team weaving their gifts together. One person shares an idea that is combined with another and adjusted by yet another. The end result is something that would have never happened through one individual. Just as in the larger body of Christ, we find we need one another for the most powerful outcomes.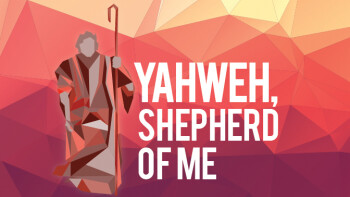 For the Yahweh series, God led us to invite Nael to pencil sketch a depiction of Christ, the shepherd. César Acosta, Sound & Media Associate, transferred the sketch into a digital file of geometric shapes and color. Darla Farrant, Graphic Designer, developed those pieces into the screens, posters and other artwork you see around church and online. Lisa Bodkin, Creative Arts Director, translated the pieces into stage design. Each of these steps involved a team effort and are just a small reflection of the design process that supports what is being taught each Sunday.
God is an artist. Having wired us visually, He masterfully crafted creation to tell His story.
God's Word isn't merely a book of facts and instruction. Through imperfect, but inspired people, He artistically weaves together words, stories and imagery to reach our hearts. Scientific studies have even revealed how visual arts and storytelling are some of the most powerful means to engaging people, leading them to retain ideas more effectively. That's no surprise as you look around at creation. God's attention to detail, beauty and symbolism are breath-taking. The Creative Team at New Hope Church has a passion for following this example by spreading God's good news through a multitude of creative expressions.
Lisa Severson, Communications Director, is part of the Creative Team at New Hope Church. She loves road trips, podcasting and exploring stories and artistic expressions that help draw people closer to God. Learn more about sharing your own creative background in communications, creative arts or sound and media.