The Why, the What & the How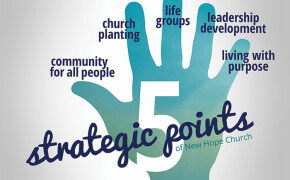 On a recent trip someone asked me what our church is all about. I love questions like this! Telling the story of what God is doing in and through New Hope Church is one of my greatest joys. I shared three things.
I told him we are moving toward Jesus and taking others with us. As a gospel-driven people, we desire that all would have a personal relationship with the Jesus of the Bible. We want to live our lives so as to direct others His way, proclaiming the gospel of redemption and modeling a genuine relationship with Him. We also desire to keep growing in our own relationship with Jesus, moving closer to Him in obedience and joy. Our lives are to be all for Jesus. We want to move toward Jesus and take others with us. Doing so is why we exist. It is our purpose as His disciples and as a church.


I told him we desire to be a Christ-centered community for all people. As I said above, our lives are to be all for Jesus. We are His church, His community—committed to the gospel and the Savior about whom the good news speaks. We desire for our whole community to be shaped by this Jesus toward whom we move. Significantly and because the reach of the gospel is so great, we aspire to be a Christ-centered community for everyone, regardless of language or color or culture. We are on a journey toward being a multi-tribal congregation, looking as much as we can like that gathering of diverse saints seen in heaven in Revelation 7. If the kingdom of heaven is not segregated, why should the church on earth remain so? This is what we are about. It is our vision, our preferred future—Christ-focused and united in our diversity. We aspire to be a Christ-centered community for all people.


I told him we desire to help our purpose and vision along through a handful of important strategic goals. These include:
Planting churches, such as we have done with Kostel Jinak in Czech Republic and Gospel Life in Minneapolis.


Developing thriving Life Groups in which people move toward Jesus in meaningful, more intimate community. This is especially helpful in such a large congregation.


Developing leaders in our church and neighborhoods—people who are growing in their skills as influencers for Christ.


Motivating people to understand how the gospel shapes their God-given gifts and passions so they may leverage these things for kingdom purposes.


Stretching people to see beyond themselves toward the beauty, vulnerability and power of other cultures and ethnicities, so we may better know how the gospel can unite us. This is how we see our purpose and vision come to fruition.
What a privilege to tell the story of our great God who is on the move!


Pastor Matthew St. John is senior pastor at New Hope Church. He nurtures a deep passion for telling stories that share God's Word so that those who are spiritually hungry may experience and proclaim the life-changing power of Jesus Christ. He and his wife, Christa, love sports, unique restaurants and long walks. Follow him on his blog, Twitter or Facebook.