What if God Formed Your Life Group?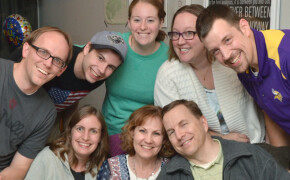 Last summer, my husband Aaron and I found ourselves in a peculiar spot. After three years, our Life Group made up of a few close friends came to a natural, healthy close. There we were with no group or plan for what to do next.
After prayerful contemplation, we decided to participate as facilitators in last fall's Connection Night. We took the training in June and sat at a table on Connection Night. We were excited, but nervous to let the group form based on whoever ended up at our table. We had decided to let the Lord create our group. Our job was simply to say "yes." It felt risky, but we knew it was the right thing to do for this season of life.
The result was unexpected. Our group ended up being just us and another couple we didn't know. We had a great time together over the six-week God@Work study. As the study came to a close, we decided to continue meeting every other week and keep the door open to others.
A few weeks later I received an email from a couple looking for a Monday night group. I let them know they were welcome to join us and they did. Honestly, I was nervous again on the first night they arrived. I had no idea who would walk in the door, what their ages were or what their personalities might be like. I wondered if we would click. Thankfully we did!
Was I nervous? Yes.
Am I so happy we did it? Yes!
A couple months later, we repeated the process with another couple. I was less nervous, but still wondered if they would be a good fit. As this new couple walked through our front door and into the life of our group, we found ourselves grateful.
Aaron and I now have six new friends. We hadn't met any of these people before beginning this journey at the Connection Night. Was I nervous? Yes. Am I so happy we did it? Yes! Our group includes people from different life stages and our conversation has been rich as we study God's Word. We have served at HopeBridge together and are learning more about one another as time goes on. I'm thankful to the Lord for forming this group and stretching me in the process.
Katie Peterson is on the New Hope Church Life Groups ministry team. If you're interested in learning more about available groups, visit the group finder or fill out the online registration.
Learn about Life Group training and Connection Night.