School Supplies Drive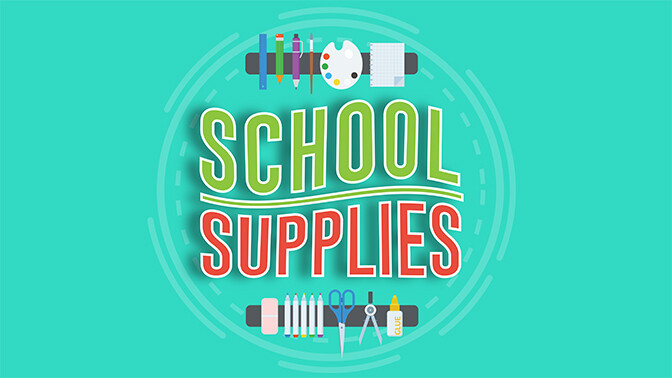 Donate School Supplies
July 24–August 21, Reception Lobby

Help kids (kindergarten–grade 12) in our community get off to a good start this school year by donating new supplies. Drop off donations at the reception lobby. For your convenience, you can shop our Amazon Wish List to have items shipped directly to NHC.
Backpacks (grades K–12, no characters)
Crayons, washable markers, colored pencils
#2 Pencils (mechanical & wooden)
Pencil sharpeners, erasers
Pencil boxes/pouches
Pens (black, blue or red), highlighters
Rulers
Glue sticks, white glue
Kid-sized scissors
Watercolor paints
Pocket folders, 3-ring binders (1-inch)
Composition notebooks
Spiral notebooks, loose-leaf paper
School Supplies Pick-Up
August 22–26, 8:30am–4:30pm, Main Campus Reception Desk
School supplies are available for families who have received an invitation to participate. Once you register, you will receive a confirmation if we can fulfill your request.
_____________________________________________________________________
Colecta de Útiles Escolares
Fechas de Recogida: 24 de julio–21 de agosto
Ayude a los niños de nuestra comunidad a comenzar bien el año escolar donando útiles escolares nuevos. Deje las donaciones en el campus principal. Para su comodidad, compre en nuestra lista de deseos de Amazon para que los artículos se envíen directamente al NHC.
Mochilas (grados K–12, sin personajes)
Crayones, rotuladores lavables, lápices de colores
Lápices #2 (mecánicos y de madera)
Estuches/bolsita para lápices
Sacapuntas, borradores
Bolígrafos (negros, azules o rojos), resaltadores
Reglas
Barras de pegamento, cola blanca
Tijeras para niños
Pinturas de acuarela
Carpetas de bolsillo, carpetas de 3 anillos (1 pulgada)
Cuadernos de composición
Cuaderno de espiral, block de hojas
RECOGIDA DE ÚTILES ESCOLARES
22–26 de agosto, 8:30am–4:30pm, recepción del sede principal
Los útiles escolares están disponibles para las familias que han recibido una invitación para participar. Una vez que se registre, recibirá una confirmación si podemos atender su solicitud.
CONTACT
Community Outreach or 763-533-5887
Staff