Global
Global Ministries helps equip you to be part of God's mission. We do this by focusing on strategic places in the world, sharing his love and good news, and assisting in meeting needs. Check out the upcoming short-term trips and discover more about how you can take part in exciting adventures while getting a glimpse of God's plan for the world. Or learn about other creative ways to support Global Ministries strategies.
Global Strategy
We want to be good stewards of the resources and vision God has given. We're doing this by implementing a strategy that focuses on church planting, evangelism, leadership development and special projects in these locations: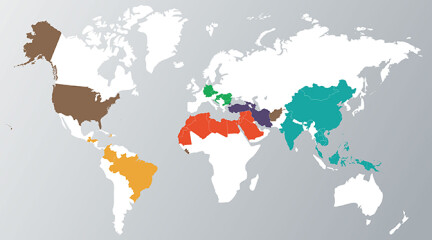 Central Asia
Predominately Islamic including Georgia, Iran and Azerbaijan. (purple)

Europe
Former Soviet bloc countries that are predominately Orthodox or atheistic including Bosnia, Bulgaria and Czech Republic. (green)

Asia
Atheistic, animistic, Buddhist, Islamic, Hindu and other world views, including China, Thailand and India. (blue)

Middle East/North Africa
Islamic including Lebanon, Jordan, Iraq and Syria. (red)

Latin America
Central America and South America, including Brazil, Colombia, Haiti and Guatemala. (orange)
Special Purpose
As resources permit, we selectively engage with strategic efforts outside of targeted regions. (brown)
Global Action Teams
Take part in a Global Action Team (GAT) that focuses on praying and caring for global partners and their ministry. Teams meet monthly to pray and discuss how to support the people in their area of focus. Learn more.
Child Sponsorship
New Hope Church is involved with refugee child sponsorship in Lebanon. Consider praying for and sponsoring a child to assist with physical, spiritual and emotional needs. Watch for new sponsorship enrollment. Learn more.
Short-term Trips
New Hope Church offers a number of opportunities for the entire church to be involved in global outreach through going, praying and giving. We encourage you to be a part of this global vision.
Serve
We want to help you discover the right fit as you use your gifts and skills to serve globally or support those who do. Learn more.
Contact
Global Ministries or 763-971-5107
Staff