New Hope Serves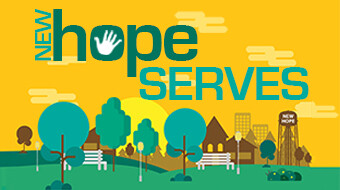 Saturday, May 20
God is at work and we want to join him! New Hope Serves is an opportunity for the entire church family to set aside a day to see what God is doing in our community.
We're working alongside those who serve our community and are developing relationships with people who are often overlooked: the elderly, the disabled and the poor. You'll find a wide variety of projects taking place simultaneously throughout the day, each designed to strengthen our relationships as a church with strategic community leaders or community members. Read through the project descriptions below and choose from the selection as you register.
Thanks for praying for this event! Registration is now closed.
Hennepin County Services – GROUP IS FULL
9am–12pm (15–20 volunteers, family friendly)
Assist social services by filling bags with hygiene supplies for the homeless and the detox center. We'll also tie fleece blankets and write notes of encouragement to people who are housebound.
Meadow Lake Elementary School
9am–11:30am (10–15 volunteers, family friendly)
This is the third year we're assisting New Hope's Meadow Lake Elementary by weeding and restoring their rain garden. We've been supporting the school in tangible ways throughout the year with hats, mittens and school supplies.
Parker's Lake Memorial Garden
9am–1pm (10–15 volunteers, middle school and older)
One of the two locations that our jail and prison ministry team serves is Parker's Lake Adult Correctional Facility. We'll provide care (weeding and planting) for the memorial garden, workhouse and golf course entrances. A rose expert would be appreciated. Basic equipment is provided. Snacks and water are provided.
Second Harvest – GROUP IS FULL
9am–11:30pm (30 volunteers, 8 years+)
This regional food bank's mission is to end hunger. It is a partner with the HopeBridge food shelf. We'll assist in prepping food to be distributed to area food shelves and shelters.
Encouraging Public Servants – GROUP IS FULL
9am–12pm (15 volunteers, family friendly)
We want to honor the public servants who care for, protect and help our community flourish. Participants create personalized thank you cards for public servants as well as small treat bags. Recipients include West Metro Fire & Rescue, Crystal librarians, and New Hope Community Planner, inspectors, city council members and mayor.
Ambassador Good Samaritan Society
9:30am–12pm (5–10 volunteers, family friendly)
The Ambassador rehab and outpatient therapy center located in New Hope is a part of the Good Samaritan Society network. We'll share live music and engage in conversation while playing games with the residents. Refreshments provided.
North Ridge Senior Care Apartments
9:30–12pm (15 volunteers, family friendly)
This is our second year providing games, sing-a-longs and one-on-one time with residents. This senior care center offers rehabilitation and assisted and independent living for residents.
Robbinsdale Women's Center – Postponed due to weather forecast
9:30am–3pm (10 volunteers)
Robbinsdale Women's Center is a pregnancy center that helps people make healthy, informed and livable choices. We'll spend the day painting the outside of their building. Working on high ladders (24–26 feet) is expected.
New Life Family Services
9am–1pm (20 volunteers, family friendly)
The mission of New Life Services is to honor the sanctity of human life by assisting clients with the love and compassion of Christ. This project involves sorting donations from a consignment sale. These donations will be given to clients in need. Snacks and lunch provided. This project is in St. Paul, but a shuttle ride from New Hope Church is provided.
North Park Plaza – GROUP IS FULL
12:30–2:30pm (10 volunteers)
North Park Plaza is a low income senior housing complex located in New Hope where we have been growing an influence for Christ over several years. We'll spend our time building those relationships with the residents by hosting a tea party, providing music and engaging in conversation.
Encouraging Police Officers – GROUP IS FULL
9–11:30am (family friendly)
We want to honor the public servants who care for, protect and help our community flourish. Participants create thank you cards for each police officer and employee at the police stations in Crystal, New Hope and Robbinsdale. These cards will be delivered at the dinner hosted by NHC that evening.
New Hope, Crystal & Robbinsdale Police – GROUP IS FULL
4:30pm–7pm & 7pm–9:30pm (2 shifts, 2–3 volunteers per shift, 16 years+)
Led by Holly Miller, we want to encourage local police officers of New Hope, Crystal and Robbinsdale by providing a meal and gift of encouragement and support.
Hygiene Bags for Homeless People
9:30am–11:30am, Fellowship Room, New Hope Church
Unable to give time for this year's New Hope Serves? No problem. Donate personal hygiene items to Hennepin County Services. Purchase and place these travel size items into a gallon size, zip-lock bag: Tube socks (men/women), deodorant (men/women), toothpaste/toothbrush/case, dental floss, manicure set (fingernail clippers, cuticle scissors, emery board), wet wipes, tissue package, shampoo, body wash, hand sanitizer, lip balm, hairbrush/mirror, disposable razors (men/women), shaving cream, band-aides, anti-bacterial cream.
CONTACT