Christmas Concert & Events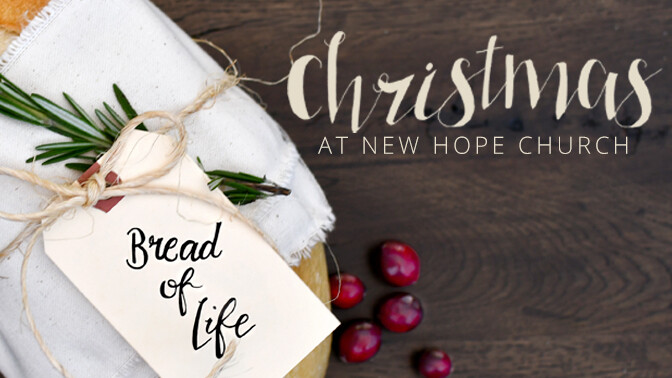 Bread of life
This Christmas season, New Hope Church is feasting on the amazing truth that Jesus, the "Bread of Life," arrived in Bethlehem, the "City of Bread." In human form, our God stepped on this planet to walk among us. We're focusing on bread as a means of reconciliation, hospitality, provision, rejoicing and satisfaction. All of these find their deepest expressions in Jesus, the bread that has come down from heaven. Invite this theme to draw your attention to Him in a fresh way this Christmas.
"The bread of God is He who comes down from heaven and gives life to the world." John 6:33
Sunday Worship Gatherings
December 3: 8, 9:30 & 11am
December 10: 8, 9:30 & 11am
December 17: 9 & 11am Christmas Concert (No 8am worship gathering.)
December 24: 10am & 4pm Christmas Eve gatherings (Birth–K childcare only.)
December 31: 8, 9:30 & 11am (No children's programs.)
Christmas Concert
Sunday, December 17, 9 & 11am
We're carrying the Bread of Life theme into a Christmas concert, combining a selection of traditional and contemporary music with spoken word. Share the hospitality of Christ with friends by inviting them to join you. Free admission.
Christmas Breakfast
Sunday, December 17, 7:30–10:30am, Family Center
Cost: $9.50/adults; $5.50/children (10 and under); $35/family
Tickets also available in the Café or lobby tables on Sundays, December 3 & 10. Proceeds benefit the Alaska family ministry trip.
New Year's Open Prayer & Communion
Sunday, December 31, 6pm–12:15am, Ministry Center
Stop by for personal prayer and communion as you invite God to direct your path in the new year.
CONTACT
Worship Arts or 763-536-3266
Staff