Love Our City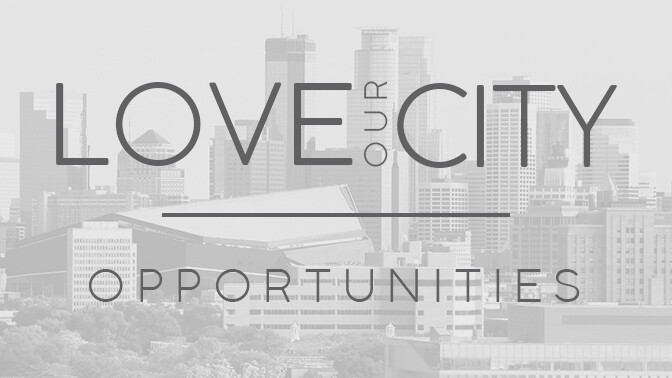 We grieve the murder of George Floyd and seek justice for him and communities of color facing inequity in our state. We desire to see buildings that were damaged or destroyed rebuilt and Jesus Christ honored as we seek the flourishing of our cities.
In-Kind Donations
Drop off donations at New Hope Church, Monday–Friday, 8:30am–4:30pm
We're collecting donations to assist those who no longer have access to local stores. Our desire is to be a good partner to the churches and organizations serving in Minneapolis and St. Paul, helping supply them with what they ask for since they know best what their neighbors need.
Items needed:
Diapers & baby wipes
Hand & laundry soap
Laundry soap
Toothpaste
Feminine hygiene products
Deodorant
Shampoo
Razors & shaving cream
Monetary Donations
The One Fund supports the work of local African American churches and ministries whose communities, due to historic inequities, are disproportionately impacted by the recent crises in our Twin Cities.
ServE
The needs and service opportunities available change frequently which means it is difficult to plan long-term events. For immediate service opportunities check out the events tab on the Support the Cities Facebook page. This list is updated as new opportunities arise.
Educational Resources
One of the best ways we can help during our local and national unrest is to educate ourselves. There are many informative resources that speak to the historic inequities that people of color face.

A Time for Lament, by Kevin Kompelien, EFCA
Oneness Embraced, by Tony Evans
Generous Justice, by Tim Keller
Let Justice Roll Down, One Blood and He Calls Me Friend, by Dr. John M. Perkins
RightNow Media
Divided by Faith, by Christian Smith & Michael Emerson
Just Mercy, by Bryan Stevenson (book and film)
The Color of Compromise, by Jemar Tisby
CONTACT