Global
Global Outreach develops local believers into global disciples who want to see the nations reconciled to God. We also partner with individuals and organizations who are called to this purpose. The Bible reveals how God loves people and longs for the earth to be filled with His glory. Many belief systems don't lead people to this loving, saving Father God of the Bible. We focus on these people groups who have worldviews summarized by five groups (T.H.U.M.B.): Tribal, Hindu, Unreligious, Muslim and Buddhist.
We expose, educate and engage our church family on these topics and the peoples that remain unreached or unengaged by the gospel. Our aim is to lead people to pray for and, as called, go to these nations. Peoples or nations with few or no churches or believers are our highest priority.
Global Strategy
Our strategy is to carefully steward the people, resources and vision God gives us by focusing efforts on church planting, evangelism, leadership development and strategic projects in these locations: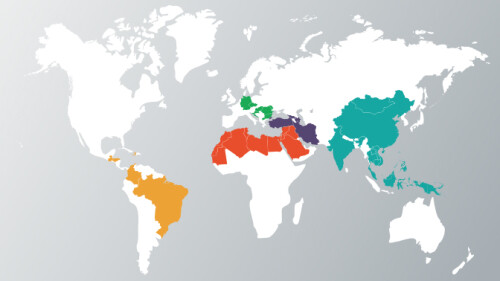 Central Asia/Caucasus
Predominately Turkic Islamic nations including Georgia, Iran and Azerbaijan. (purple)

Europe
Eastern bloc former Soviet countries: Bosnia, Bulgaria and Czech Republic. (green)

Asia
Tribal, Buddhist, Islamic and Hindu, including China, Thailand, Laos and India. (blue)

Middle East/North Africa
Islamic including Lebanon, Libya, Mauritania, Algeria, Jordan, Iraq and Syria. (red)

Latin America
Puerto Rico, Haiti and Brazil. (gold)
GO News
Want to know what NHC is doing "scattered" throughout the world? GO News, a monthly Global Outreach update, connects you to global partners we work with among the nations. Contact Global Outreach to sign up.
Global Action Teams
Some serve by going and some by sending and supporting. Global Action Teams (GATs) meet monthly to pray and discuss how they can provide practical support for regional global partners and ministries. Learn more.
Short-term Trips
We offer opportunities for all ages to get involved in global outreach through going, praying and giving. Jesus commands us to go and we are all encouraged to be part of His global mission in some way. If you are interested in finding out about any possible trips such as a virtual or in-person trip to India, contact Global Outreach.
Serve
We want to help you discover the right fit for your gifts and skills as you serve globally or support those who do. If you feel called to cross-cultural or overseas service, connect with the Global Outreach. Learn more.
Contact
Global Outreach or (763) 536-3218
Staff