Strongholds Message Series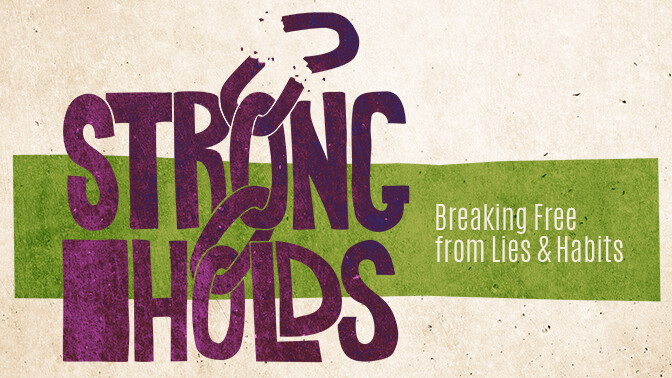 Break Free from Lies & Habits
Sundays, August 2–30
Do you feel like you keep dragging around the same old baggage in life? We all believe lies that hold us back from fully living the way God intended. Those lies entangle our relationships and weigh us down with strongholds that control the way we think and act. This August, step onto a path that leads toward freedom that's only possible with Jesus. We'll explore five common deceptions that can keep us feeling stuck. You don't need to pursue emotional, spiritual and relational health alone. No matter what your challenge is, there's hope and help. En Español
AUGUST
2 Fear
9 Shame
16 Superiority
23 Sexual Bondage
30 Unforgiveness
Resources
Articles
Go deeper into each of the Strongholds topics.
Books
The Bait of Satan, by John Bevere.

Bitterness and unforgiveness.

The Bondage Breaker, by Neil Anderson. All strongholds.

Desiring God

, by John Piper. Destroying self-superiority.

The Fear of the Lord,

by John Bevere

Sex & the Supremacy of Christ, by Justin Taylor & John Piper
The Soul of Shame, by Curt Thompson, MD

Who I Am In Christ,

by Neil Anderson. Breaking shame patterns.
Study
God's Word
2 Corinthians 10:3–4, 2 Timothy 1:7, 1 John 4:8, Hebrews 12:2, James 4:6–8, Philippians 2:3–11, Psalms 61:1–3, 2 Corinthians 2:7–11, Luke 23:34
Freedom in Christ Ministry
Wherever you are in your journey, The Steps to Freedom in Christ can help you take several steps forward. The study materials are designed for individuals or small groups. After completing the study, if you feel there's still work to be done, schedule a Steps to Freedom appointment.
Message series discussion guides
Counseling
Contact Care Ministries for appointments.

Counseling with a pastor

Transformation Prayer: These prayer sessions position you to find healing at the feet of Jesus. Guided questions help expose lies that build strongholds. Listen as God speaks truth over each lie, breaking down strongholds and transforming your life by renewing your mind in truth (Romans 12:2).

Prayer Resolution:

This prayer ministry applies scriptural teaching to the deepest hurts in life. This process takes time, but results in abundant freedom as God breaks down the strongholds in individual lives, so we can find reconciliation and resolution with each other.
Prayer
Sundays in August: Stop by the outdoor lobby prayer table
Pastor-on-call: 763-244-7971
CONTACT
Care Ministries or 763-971-5123
Staff