Ministry Centralization Project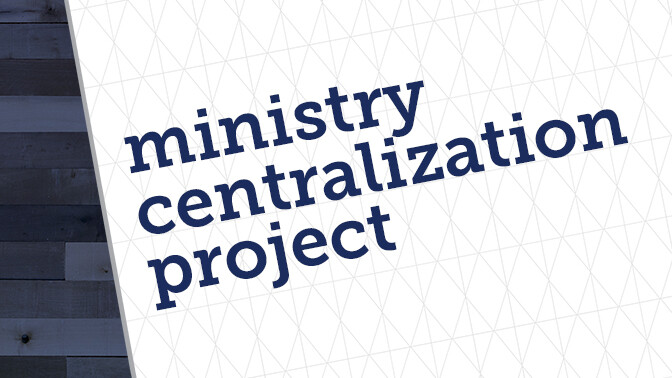 04/15/21 Update
We have an exciting update! First, we're very close to having a closing date for the Extended Campus. The property is being sold to the Charter School Development Corporation for a new Spanish immersion charter school called Escuela Exitos.
Secondly, we'll be starting construction to renovate the gym and some other key areas at the Main Campus in just a couple of weeks.
____________________________________________________________________________________________________________________
The Ministry Centralization Project is a recommendation from our Elders, Property Council and staff to centralize our ministries (with the exception of the food shelf) to the Main Campus. This exciting project is the culmination of more than two years of careful planning and diligent prayer.
Our congregation approved the sale of the Extended Campus with an affirmative vote of 95.5%.
BACKSTORY
Over the past two years, the Property Council and Elder Leadership Team have worked closely with our staff to seek God's direction for the future of our ministry campuses. Two firms (American Engineering Testing & Miller Dunwiddie) were contracted to do a feasibility study of the Extended Campus and HopeBridge in order to assess the current facility conditions and the costs necessary to keep them functioning into the future. A Property Council subgroup distilled those findings into one and five-year estimates of operational costs, maintenance and improvements, alongside current and potential building usage.
EXTENDED CAMPUS SALE
The Extended Campus (located at 4741 Zealand Ave) will be sold, with sale proceeds being utilized to fund the renovations at the Main Campus. A real estate task force from the Property Council has met with several commercial real estate professionals to understand the market for the property. If approved by the congregation, a contract will be formalized with one of the agents to list the property in March.
GYM RENOVATION
The Main Campus gym will be renovated to create a two-level Student Ministries space in one half, which provides the opportunity to serve families together in one building. The other half will become a multi-use worship/gym that will be used by many of our ministries. The exterior gym entrance will be expanded on the lower level and will also connect to the existing building on the upper level.
The Property Council has contracted with HGA and Langer Construction to develop these plans. Construction would begin in April and be completed in time for the fall 2021 ministry launch.
STAFF CENTRALIZATION
Existing office space will be expanded and updated in order to centralize Student, Care and Global Ministries at the Main Campus. This enables staff to be positioned in proximity to enhance collaboration, teamwork and efficiency.
COSTS & FUNDING
The proceeds of the Extended Campus sale are expected to cover the full Ministry Centralization Project costs. To enable a seamless transition, temporary funding will be provided through a revolving line of credit secured by the church's properties. The line of credit serviced through Christian Investors Financial is not to exceed $1,650,000, with a 3-year maturity and a variable interest rate equal to the Wall Street Journal Prime Rate.
Frequently Asked Questions
Why are we doing this now given the pandemic and the uncertainty of the economy and budget?
This process has been underway since the summer of 2018. Spending money is required to maintain any building. By doing this project now, we're saving significant funds on required updates and maintenance to the Extended Campus and it is forward thinking as it pertains to ministry. While it is not a reaction to the pandemic, those dynamics enhance the need and opportunity to make these changes.
Is this a wise financial move?
Yes. The sale of the Extended Campus will offset the cost of the Ministry Centralization Project. Rather than having a significant net spend on the Extended Campus (which has considerable unused space and a layout that no longer fits our ministry needs), we will ultimately have a net zero spend that results in updated and redesigned spaces at our Main Campus.
What's better about Student Ministries being on the Main Campus?
Students being at the Main Campus provides a more cohesive ministry experience for families. Instead of having to make multiple drop-offs and pick-ups between campuses, families will be able to enjoy ministry in one location. In addition, having students in proximity to the broader church is good for everyone as students become more a part of the life of the church.
How will this impact our other ministries?
New spaces provide the opportunity for all our ministries to optimize how they use our facilities. The staff will be working together to formulate scheduling and space configurations that work best for everyone. Through this project, our Care, Global and Student Ministries will be integrated into new spaces at the Main Campus.
What if the Extended Campus sells for less (or more) than the cost of the projects?
The projected sale price range is based on the comparable properties that have sold or are currently for sale. If the sale price exceeds the project costs, the additional funds will be reserved for future use under the guidance of the Elders. If the sale price does not meet the project costs, the Elders have contingency reserves that would bridge the gap.
What does this mean for HopeBridge?
HopeBridge has become a pillar in our community, particularly this past year during the pandemic. The location and facility have great potential to continue to serve our community well. The building will undergo the necessary maintenance, repairs and updates to best accommodate the food shelf.
Can I contribute financially toward these kinds of projects?
While Extended Campus sale proceeds are expected to cover the project costs, similar strategic projects such as the updates to HopeBridge are funded by Campus Improvement Ministries (CIM) that our Property Council oversees. You can contribute to this fund online or on your offering envelope.
____________________________________________________________________________________________________________________
PROYECTO DE CENTRALIZACIÓN DE MINISTERIOS
El Proyecto de Centralización de Ministerios es una recomendación de nuestros Ancianos, el Concilio de Propiedad y el personal, para centralizar nuestros ministerios (con la excepción de la despensa de alimentos) en el Campus Principal. Este emocionante proyecto es la culminación de más de dos años de planificación cuidadosa y oración diligente.
Nuestra congregación aprobó la venta del Campus Extendido con un voto afirmativo del 95.5%.
TRASFONDO
Durante los últimos dos años, el Concilio de Propiedad y el Equipo de Liderazgo de Ancianos han trabajado en estrecha colaboración con nuestro personal para buscar la dirección de Dios acerca del futuro de nuestros campus ministeriales. Se contrataron dos compañías (American Engineering Testing y Miller Dunwiddie) para realizar un estudio de viabilidad del Campus Extendido y de HopeBridge, a fin de evaluar las condiciones actuales de las instalaciones, y los costos necesarios para mantenerlas funcionando en el futuro. Un subgrupo del Concilio de la Propiedad destiló esos hallazgos en forma de estimaciones de costos operativos, mantenimiento y mejoras a uno y cinco años, junto con el uso actual y potencial del edificio.
VENTA DEL CAMPUS EXTENDIDO
El Campus Extendido (ubicado en 4741 Zealand Ave) se venderá y los ingresos de la venta se utilizarán para financiar las renovaciones en el campus principal. Un grupo de trabajo para bienes raíces, parte del Concilio de la Propiedad, se ha reunido con varios profesionales en bienes raíces comerciales para entender el mercado para esta propiedad. De ser aprobado por la congregación, se formalizará un contrato con uno de los agentes para publicar la propiedad en marzo.
RENOVACIÓN DEL GIMNASIO
El gimnasio del Campus Principal será renovado, para crear un espacio de dos niveles para el Ministerio Estudiantil en la mitad, lo que brinda la oportunidad de servir a las familias juntas en un edificio. La otra mitad se convertirá en un gimnasio / salón de adoración multiuso, que será utilizado por muchos de nuestros ministerios. La entrada exterior al gimnasio se ampliará en el nivel inferior y también se conectará al edificio existente en el nivel superior.
Gimnasio Antena Nivel inferior del gimnasio
El Concilio de Propiedad ha contratado a las compañías HGA y Langer Construction para desarrollar estos planes. La construcción daría inicio en Abril, y estaría completada a tiempo para comienzo de los ministerios en el otoño de 2021.
CENTRALIZACIÓN DEL PERSONAL
El espacio de oficinas existente se ampliará y actualizará para centralizar los Ministerios de Estudiantes, de Cuidado y los Globales en el Campus Principal. Esto permite que el personal esté ubicando en la proximidad adecuada para mejorar la colaboración, el trabajo en equipo y la eficiencia.
COSTOS Y FINANCIAMIENTO
Se espera que las ganancias resultantes de la venta del Campus Extendido cubran la totalidad de los costos del Proyecto de Centralización del Ministerio. Para hacer posible una transición más fluida, habrá una provisión de fondos temporales mediante una línea de crédito asegurada por la propiedad de la iglesia. La línea de crédito será facilitada por Christian Investors Financial no exceda los $1,650,000.00, con un vencimiento a 3 años y una tasa de interés variable igual a la tasa preferencial de Wall Street Journal.
PREGUNTAS FRECUENTES
¿Por qué estamos haciendo esto ahora, considerando la pandemia y la incertidumbre de la economía y el presupuesto?
Este proceso ha estado en marcha desde el verano del 2018. Se necesita gastar dinero para mantener cualquier edificio. Esta decisión enfoca ese gasto en el escenario más sabio y con visión del futuro en lo que respecta al ministerio. Si bien no es una reacción a la pandemia, esas dinámicas aumentan la necesidad y la oportunidad de realizar estos cambios.
¿Es esta una decisión financiera inteligente?
Si. La venta del Campus Extendido compensará el costo del Proyecto de Centralización del Ministerio. En lugar de tener un gasto neto significativo en el Campus Extendido (que tiene un espacio considerable sin usar y un diseño que ya no se ajusta a las necesidades de nuestro ministerio), finalmente tendremos un gasto neto de cero que resultará en espacios actualizados y rediseñados en nuestro Campus Principal.
¿Por qué es mejor que los Ministerios Estudiantiles estén en el Campus Principal?
Los estudiantes que están en el Campus Principal proporcionan una experiencia ministerial más cohesiva para las familias. En lugar de tener que dejar y recoger varios estudiantes en cada campus, las familias podrán disfrutar del ministerio en un solo lugar. Además, tener estudiantes cerca de la iglesia en general es bueno para todos, ya que los estudiantes llegan a formar más parte de la vida de la iglesia.
¿Cómo afectará esto a nuestros otros ministerios?
Los nuevos espacios brindan la oportunidad para que todos nuestros ministerios optimicen el uso que hacen de nuestras instalaciones. El personal trabajará en equipo para formular la programación y las configuraciones de espacio que funcionen mejor para todos. Mediante este proyecto, nuestros Ministerios de Atención, Global y Estudiantiles se integrarán en nuevos espacios en el Campus Principal.
¿Qué pasa si el Campus Extendido se vende por menos (o más) que el costo de los proyectos?
El rango de precio de venta proyectado está basado en propiedades comparables que se han vendido o están actualmente a la venta. Si el precio de venta excede los costos del proyecto, los fondos adicionales se reservarán para uso futuro bajo la guía de los Ancianos. Si el precio de venta no cubre los costos del proyecto, los Ancianos tienen reservas para contingencias que cubrirían la brecha.
¿Qué significa esto para HopeBridge?
HopeBridge se ha convertido en un pilar en nuestra comunidad, particularmente este año pasado, durante la pandemia. La ubicación y las instalaciones tienen un gran potencial para seguir sirviendo a nuestra comunidad. El edificio se someterá al mantenimiento, las reparaciones y las actualizaciones necesarias, para adaptarse mejor a la despensa de alimentos.
¿Puedo contribuir económicamente a este tipo de proyectos?
Si bien se espera que los ingresos de la venta de Campus Extendidos cubran los costos del proyecto, proyectos estratégicos similares, como las actualizaciones de HopeBridge, son financiados por Campus Improvement Ministries (CIM) que supervisa nuestro Concilio de la Propiedad. Puede contribuir a este fondo en línea o en el sobre de su ofrenda.