3000 Acts of Kindness Donation Drive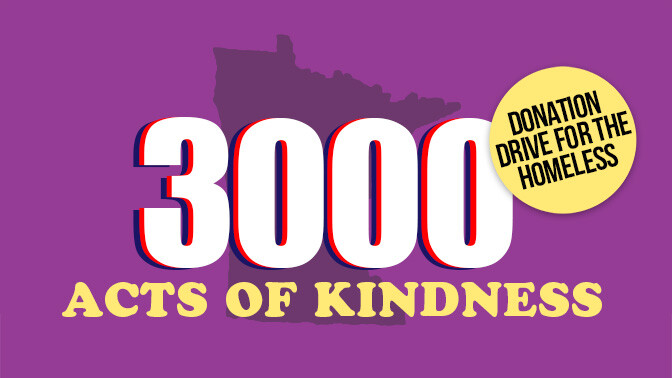 Collection Dates: October 2–9
Homelessness is growing in the Twin Cities and impacts individuals of all ages. This year, Coated In Love is hosting 3,000 Acts of Kindness, a one-day event on December 12, at the Minneapolis Convention Center. It will be a wonderful opportunity to provide a day of hope and dignity to 3,000 homeless individuals in the Twin Cities. Our goal is to provide each homeless individual with a meal, haircut, necessities, access to agencies who can help, and the opportunity to pray with a volunteer and learn about Jesus.
Join other churches from around the Twin Cities in providing basic necessities for people of all ages experiencing homelessness. Drop off new items to New Hope Church Reception Lobby.
Donation List
Adult Socks
Adult Underwear
Washcloths
Sleeping bags
To learn more about the 3000 Acts of Kindness event or to volunteer, visit coatedinlove.org.
_________________________________________________________________________
Campaña de donación de 3000 actos de bondad
Fechas de recolección: del 2 al 9 de octubre
La falta de vivienda está creciendo en las Ciudades Gemelas y afecta a personas de todas las edades. Este año, Coated In Love está organizando 3,000 Actos de Bondad (Acts of Kindness)un evento de un día, será 12 de diciembre en el Centro de Convenciones de Minneapolis. Será una oportunidad maravillosa para brindar un día de esperanza y dignidad a 3,000 personas sin hogar en las Ciudades Gemelas. Nuestro objetivo es proporcionar a cada persona sin hogar una comida, un corte de pelo y proveer para algunas otras necesidades, acceso a agencias que puedan ayudar y la oportunidad de orar con un voluntario y aprender acerca de Jesús.
Únase a otras iglesias de las Ciudades Gemelas para satisfacer las necesidades básicas de personas de todas las edades sin hogar. Deje los artículos nuevos en el vestíbulo de recepción de New Hope Church.
Lista de donaciones
Calcetines para adultos
Ropa interior para adultos

Paños para aseo

Bolsas de dormir
Para obtener más información sobre el evento 3000 Actos de bondad o para ser voluntario, visite coatedinlove.org.
CONTACT