Car 2 Corner
Every story is unique. Some quietly see glimpses of God in the ordinary, everyday activities of life and family. Some stories reveal how God works in the midst of challenge and turmoil. Then there are stories of God directing us in clear and unmistakable ways. That's the case with Nichole Little's inspiration to start Car2Corner, a ministry to homeless people.
"I truly feel like the Holy Spirit moved through me one day to start this ministry." That is how Nichole Little prefaces her story about starting Car2Corner.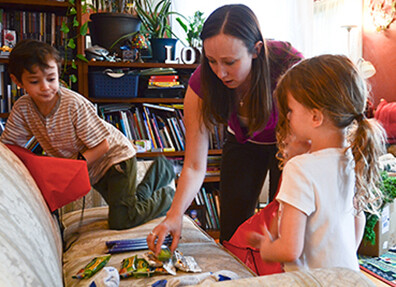 Nichole is a home care nurse which means she travels around the Twin Cities on a daily basis, often passing homeless people on the corners of intersections. We're all familiar with people holding signs asking for help. You might relate to Nichole's concerns in these situations. Her family has a history of drug and alcohol abuse. Because of that, she found herself hesitant to give money, fearing it might be used for that purpose. "I felt torn between not judging people and not supporting a habit that caused so much damage in my personal life."
One day, as Nichole drove toward the corner of Highway 94 and Dowling, she was listening to a favorite pastor on the radio. The topic was on sharing God's Word specifically with those who most seem to need it. "As I listened, I drove past a person asking for help. It came to me all at once, like a rush of information storming my mind. It gave me goosebumps and everything I needed to do was crystal clear.
I was so sure it was God talking to me.
He showed me the perfect way to encourage
the people I encountered every day!
Nichole went home, told her husband about God's inspiration for them and within 24 hours they had ordered all the supplies and created a website. They even filed paperwork for non-profit status. She remembers how effortlessly it all came together. Within two weeks, they were handing out care bags.
Nichole's husband, Brian, also drives for his job, so they each keep a supply of care bags in their vehicles. These drawstring bags are filled with a letter sharing Christ's love and a new testament. Also included are granola bars, socks, a bottle of water, hand warmers, liquid soap, a washcloth, toothpaste and a toothbrush.
"Brian and I often used the excuse that with small kids and two full-time jobs we certainly didn't have time for ministry. God basically said 'actually you do.' We've learned that there is always time to encourage others and spread God's love. I believe that if you pay close attention and pray about it God will make many opportunities for you to show his love to others.
They've also discovered how the ministry is a wonderful way to teach their children about God's love and how fun it can be to give to others. They help pack the bags and sometimes take extra long ways through the city so the kids can take part in handing the bags out. This helps teach them that God loves all people and wants us to be the messengers of that love. Their extended families have also helped to support the ministry financially at times so they can make bulk purchases for the supplies.
Others have assisted the Littles in Car2Corner. Not long ago, a group of girls from Wednesday Night Kid's Clubs helped by providing their own original artwork with each bag they packed.
Nichole and her family have seen God answer prayer, provide for their needs and touch people. Often, there's not much time for more than a smile and a very brief conversation. Most recipients express gratitude. Even when the ministry seems overwhelming or Nichole wonders if they're really making a difference, God has brought encouragement. "I have learned, I'm just an instrument for God and if he wanted me to do this then who am I to say no. If only one person is encouraged by this ministry then its all worth it."