Family On-the-Go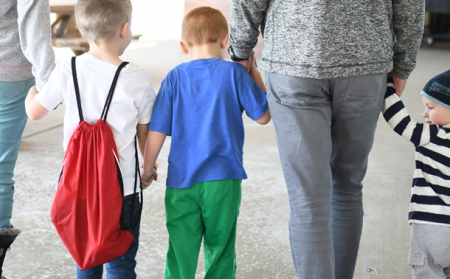 You're encouraged to consider these two questions throughout your summer: 1. How is the gospel a foundational encouragement for my family? 2. How is the gospel positioning my family to have an impact for Christ?
When our families are centered on the gospel, Jesus fuels us with encouragement and grace-filled promises as we move toward Him and take others with us.
2 Corinthians 5:14–15
The Lord equips and empowers believers to reflect the gospel. He is the one who positions and motivates families to reach those around them. With this in mind, Children & Family Ministries designed a few resources to help your family this summer.
Family Go-Bags
This June, pick up a bag outside the Family Center (lower level). Whether you have younger kids or adult children, the materials in these bags offer resources and ideas to take you through the summer.
Summer Family Community
Sundays in June, 9:30am, Sandberg Chapel. Parents gather for prayer, encouragement and Bible teaching that equips you to be a gospel-focused family.
Summer Family Message Questions
Available outside the Family Center, these questions are designed for families to process the Sunday messages together this June and apply what they learn to real life.
Family Resource Blog
Watch for more valuable resources in Holly Miller's blog.
Matthew 5:15–16


Holly Miller, Children & Family Ministries Director, holds a masters in ministry and a bachelor's degree in Christian ministry. She has 20 years of experience at the local church level and in non-profit leadership. Her passion is empowering ministry teams, developing leaders, equipping volunteers and shepherding families to grow in Christ. Holly is also a police chaplain, and is married to Jason and they have a daughter, Kayla.