Homebound? You are Deeply Loved.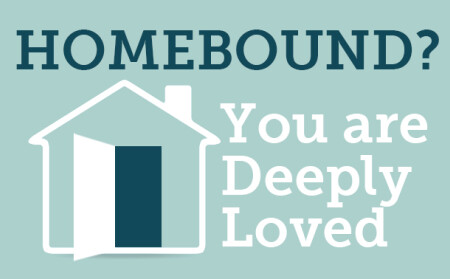 Remember the arctic freeze that hit the Midwest not so long ago? Like many Minnesotans, you may have been stuck at home for a few days. Whether you had a household of children home from school or were just avoiding dangerous commutes, you probably began to feel a bit stir-crazy.
It looks like many of us will be homebound for more than just a few days. For some, being homebound is nothing new. These friends may have the added situation of health challenges, pain or disabilities. They may be part of our church family, but have been unable to connect with others and serve onsite as they'd like. At times, some face loneliness and wonder if they're forgotten. Jesus doesn't leave a lot of room for guessing on priorities here. He invites us all to respond in some way to people in need.
"And as you wish that others would do to you, do so to them." Luke 6:31
"And when did we see you sick or in prison and visit you? And the king will answer them, 'Truly, I say to you, as you did it to one of the least of these my brothers, you did it to me.'" Matthew 25:39–40
Stop and picture yourself struggling to muster the strength, health and focus you once had. Activities and even ministries you once held dear become difficult.
When you're in a difficult season in life, know this truth: You are not forgotten. You are a valuable, loved member of this church family. God continues to work in your life. He teaches you, cares for you and loves you dearly.
Every one of us is able to uniquely support those who are homebound. A prayer, a call, a meal or a note. It's likely you'll find immense blessing in these simple interactions as God reveals Himself in the realities and hardships of life. You may learn something about yourself. You may be encouraged by the experience of someone who has lived a lot of life. At times God will use your gifts to lessen the load of someone who is troubled. Sometimes you'll be brokenhearted. Other times you'll find great joy as you spend time together.
It's not uncommon to hear our care team express what a gift it is to see God at work in the lives of people. Caring for others provides a unique vantage point from which to watch God's mercy in play. It's often a behind-the-scenes role that goes unnoticed, but it means a great deal to many and reflects the heart of Jesus here in this church.
Whether you're caring for an aging parent, dropping off groceries for a sick neighbor or being trained as an NHC care volunteer, you're expressing the hands and feet of Jesus. Most of the time it simply means pausing to recognize someone's story and letting them know you care and are praying.
Average Monthly Health-Related Connections
Hospitalizations: 8
Deaths: 6
Health-related phone calls: 81
Visitations: 19
Reach Out with Care to Others Who are Shut-in
Write notes, text or email
Make phone calls
Drop off groceries or other supplies
Ask how you can pray with and for others
Start a Facebook group to stay connected with a small group
Listen to someone else's story
Stay Connected to New Hope Church