Laku's Story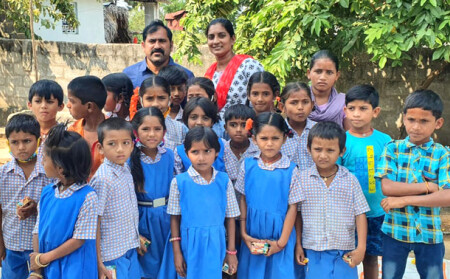 In 2020, when New Hope Church began partnering with national evangelists, there were no known believers or churches among the Mangala people of India. None. Two years later, there are 2,000 believers and 28 churches out of roughly 2,500,000 Mangala people. Now a new tribe and tongue gathers around the throne (Revelation 7:9). We rejoice and give thanks to God. Here is a God story from the Mangala outreach.
Laku grew up in a poor Hindu family as part of the Banjara people in India, who many believe the Roma people descended from. His people are a lively colorful people famed for their dancing. His family was unable to support him so they decided to send him to the free Christian school where they knew he would be fed, clothed and given an education.
Laku thrived at the school and became a follower of Jesus. He also worked hard to learn the lessons he received, eventually obtaining a Master's degree. The promise of a comfortable life lay before him. However, Laku received more than just a good education at the school. Laku's faith and vision for the gospel grew there also which led him to pursue ordination, becoming a Baptist pastor.
Over time he met East-West Ministries and realized he shared a vision with them to reach the lost and unreached of his nation. He became one of their field leaders. He married his wife Renuka and raised two boys. With the vision God gave him, over the next few years he would see hundreds of churches planted in partnership with East-West and national ministry workers.
In 2020 through one of our church members, New Hope Church was introduced to Laku and we decided to partner with his team and East-West Ministries to share Christ with the Mangala people.
Laku never forgot the role that the education provided by Christians played in his life. Because of the faith he gained there, thousands have come to Christ. Now, Laku wants to see others given an education and the possibility of an eternal purpose. By providing two hours of education given by Christians to children who would otherwise have none, Mangala villages can be blessed and families transformed by the inspiring power of the gospel. Some will come to know the Lord and share their faith with their family and some may even become ministers of the gospel like Laku.
Education was a powerful force in Laku's life for transformation and growth and he believes this can also be true among the Mangala.
---
Contact Global Outreach to learn more about the Mangala outreach and how you can help.


Chris Jones is the Global Outreach Director at New Hope Church. He longs for the unreached people of the world to experience the life-changing love of God and for people at New Hope Church to find fullness of joy by obeying the Great Commission.