The Light of Christ in Kurdamir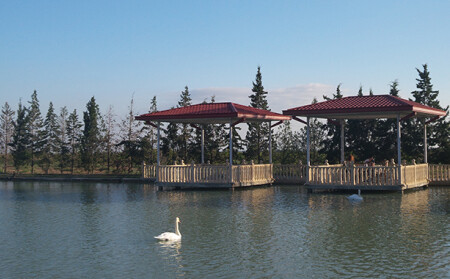 As part of NHC's Azerbaijani people group focus, we have a project called, "Reaching All Azerbaijanis." Our main partner on the ground is Ben (Operation Mobilization Field Partner) based in Western Georgia. He and Stephen (NAM colleague) work to create faith through videos on social media. Responses are followed up by nationals throughout the region in various countries. Ben trains the teams and feeds them responses. The local teams then connect with the people who respond in person. This is one of those stories.
Peace is a 24-year-old young lady who shares the gospel with people who make contact with us through social media. Hundreds of people have heard about Jesus because of her. She is from a little town of Kurdamir in central Azerbaijan. This is a very unreached area from which we hardly ever receive New Testament requests.
Two Korean people who were completely unaware of one another shared the gospel with Peace in Baku, but she didn't think much of it. After all, she thought, isn't Jesus just a prophet? Soon after quarantine restrictions started, she fell into a deep depression. Peace actually thought of hanging herself. It was just at that point of no return that she audibly heard a voice saying, "Ask for help from Jesus Christ and He will save you." Initially, she just thought it was her own inner monologue, but she heard the voice again. Immediately she chose to follow Jesus and her life was changed—she had joy!
Shortly after, in 2020, Peace shared the gospel with her mother in Kurdemir. She was not initially receptive. But since then, our team has been praying!
Peace's mother and father have been constantly talking about divorce and every time this comes up Peace goes and comforts them both and has been using this opportunity to share Jesus.
In 2022, Peace invited her mother to a small gathering of believers in Baku. During the worship she found Jesus as the answer to the abandonment with her husband. With our team's encouragement about multiplying disciples, Peace has been studying the Bible with her mother. Even better, one of her mother's co-workers is wanting to study the Bible with her. The best news? Many others in that workplace also want to know more about Jesus.
Pray for Kurdamir to become a city that has many disciples making disciples!
---
Contact Global Outreach to learn more about the Mangala outreach and how you can help.


Chris Jones is the Global Outreach Director at New Hope Church. He longs for the unreached people of the world to experience the life-changing love of God and for people at New Hope Church to find fullness of joy by obeying the Great Commission.