Walk to Jesus With Me!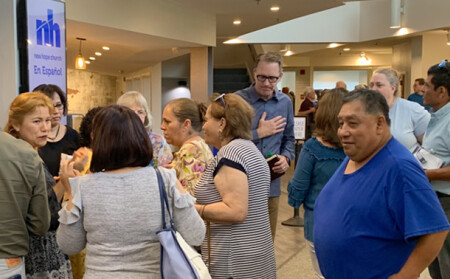 Research affirms the influence Latinos are having on evangelicalism across the United States. In contrast to all the tension in current events and at the southern border, Minnesota is experiencing benefits out of the migration from many Latin American countries.
Moving Toward Jesus & Taking Others With Us
New Hope Church has welcomed people from 17 Latin American countries. Let's seize the opportunity we are experiencing with all people groups in our community and the world, especially with those who now call New Hope Church their spiritual "familia" (family).
Jesus is being made known to many immigrants moving to the United States. Others are arriving as believers. Here at New Hope Church, you'll meet immigrants who are committed to sharing the gospel as they serve in Latino Ministries. They're joining our church family, aspiring to be a community centered in Christ for all peoples as we move toward Jesus and take others with us. Latinos, encourage other Spanish-speaking friends to "¡Camina hacia Jesús conmigo!"
Here are some ways you can intentionally walk toward Jesus in the coming months through Latino Ministries:
Alpha: Explore questions of faith.
Financial Peace University: Learn to handle finances biblically.
Grupos Pequeños: Build community in a Life Group.
Gateway Theological Institute: Gain access to education.
Puerto Rico Project: Get involved in outreach.
Learn more about these opportunities.
McNeel, Bekah. "Latino Immigrants Are Evangelizing America." News & Reporting.

Pablo Cachon is Latino Ministries Pastor at New Hope Church. "It is an honor to serve, encourage and empower the Church, so that it may fulfill its purpose, thus glorifying God across the street and around the world."