Watch for God in the Unexpected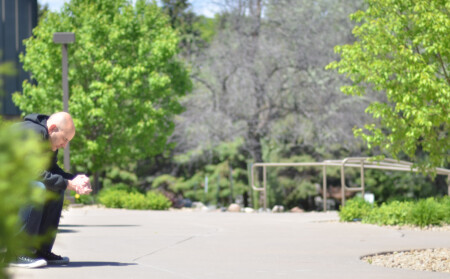 The Bible is full of the unexpected: The creation of the universe, mankind, the flood, the Nile River turned into blood, parting the Red Sea and the 10 Commandments. And how about the Christmas story? A baby from a virgin. The Savior of the world born in harsh, humble surroundings. God is full of surprises. Just look for the unexpected and expect to see Him.
Every day is a surprise at HopeBridge. I have no idea who will walk through the doors. Yesterday I had the honor of serving a man who is homeless. He stopped in for refreshment on his journey across the Twin Cities in pursuit of a job. With each new person we meet, God gives an opportunity to be a blessing.
One factor combating our ability to serve people is trauma. The enemy attempts to disrupt God's plan in their lives. For some, deeply disturbing events fill their story.
Physical or sexual abuse, violence, war or natural disasters. These things are more common than we'd care to imagine and often have lasting effects. Psychological, emotional or physical effects can impact how we interact with others.
When we're dealing with the effects of trauma, it's not uncommon to be triggered in conversations and interactions. The environment or the demeanor and expression from another person can cause us to revert to feeling overwhelmed or fearful. This can result in a strong emotional reaction such as anger, shutting down, crying or fear which may seem out of proportion to the situation at hand.
How can we respond with God's grace and understanding? How might He use us to bring healing as we help de-escalate this type of interaction and support others in trauma? Here are a few suggestions:
• Stay calm and keep an even tone. Your calmness creates an atmosphere of safety.
• Pray silently. Ask the Holy Spirit to direct.
• Remember the person's reaction is not about you. It's coming from a place of hurt where they felt powerless.
• Offer choices. Would they like to continue or end the conversation? Do they want to finish the task at hand or come back to it? Giving choices helps restore a sense of self-control over one's circumstances. Recognize that this is a person deserving of dignity, made in God's image.
The good news is that God is able to heal and sustain us as we are impacted by trauma. And He can use us to communicate love and compassion to those who suffer. Whether you or someone you love needs healing, there is hope available. Contact Care Ministries to learn about Prayer Ministries and the Assessment & Referral team.

Cassie Davison Bair is Community Outreach Director at New Hope Church. Much of her free time is spent with her husband, Kyle, family and outdoor activities. She loves how, as we tend to the needs of our neighbor, we open the doors to relationships where gospel centered conversations can naturally flow.
Learn more about Community Outreach.
Learn more about Prayer Ministry.