What Tale Have You Fallen Into?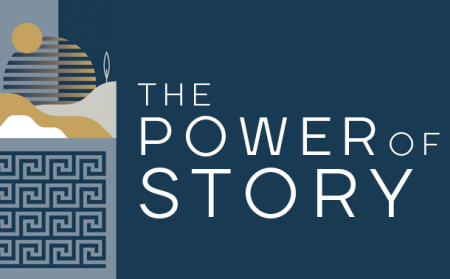 "I wonder what sort of tale we've fallen into?" Samwise Gamgee asked in J.R.R. Tolkein's epic The Lord of the Rings, The Two Towers. Your family, culture and season in life all weave together a unique narrative. Those experiences probably include a combination of heart-warming, unconventional and difficult memories.
Your story is what you carry into your journey with Jesus and the bigger story He calls you toward. That alone makes it valuable—even if you're not living a Sam-and-Frodo-type-of adventure.
This Christmas, the New Hope Church family is intentionally focusing on the beauty, complication and significance of Christmas stories. Read the original Christmas story of Jesus' birth. We're missing out if we merely focus on Mary's Song or the multitude of heavenly host praising God. The wide-angle shot reveals shame, accusation, unexpected travel plans, strangers and messy surroundings. Chances are your Christmas stories include many of those same elements.
Your Story
There's great value in spending some personal time thinking about your experience of Christmas.
Who has been the cast of characters?
What are the battles? Or the conflicts swept under the carpet?
Recall the celebrations and traditions.
Answered prayers? Forgiveness? Disappointments?
Has Christmas been marked with any injustice, shame or misunderstanding?
How have you seen God at work over the years?
Do you generally look forward to or dread Christmas?
What do you want Christmas to look like going forward?
Might this be the year you explore a new Christmas narrative together with God? Just to get them out of the way, let's start with a few common misconceptions:
"My story isn't worth telling."
"Someone else's story is more interesting or valuable."
"My story has little to do with God's big plan."
Whatever chapter you're walking out in life, you may want to ponder this truth:
With God, you're never at the end of the story. In fact, your story is a slice of an epic story He is telling the world.
And, oh how what an expert He is at redeeming even the most tangled dramas!
So, what's stopping you from inviting God to transform your tale? How about asking Him to reveal more of the relevance of Christ's birth in your life? Is He leading you to make some choices that move you closer to Him this Christmas?
Other Stories
God doesn't intend for us to live an isolated story. He invites us to explore, encourage and engage with other stories. Take time this season to listen to someone else's Christmas experience. It's likely you'll begin to see how sharing these experiences helps you both see Jesus' birth as well as one another in a new light.
Connect
Try this. Contact a family member, friend or new acquaintance. Ask them to share a childhood Christmas experience. Questions to start the conversation:
What's your favorite Christmas memory?
Your most challenging Christmas experience?
Are there ways that the story surrounding Jesus' birth has made a difference in your Christmas story?
Listen
Make the invitation and then recognize what an honor it is to enter someone else's story. What are the traditions, highlights or challenges the storyteller is open to sharing?
Caution
As someone shares their story, it's easy to connect or contrast it with your own, or to try to resolve or label it. Instead, intentionally pause to truly listen. Be present as they describe any places of emotion, struggle, joy and redemption. When appropriate, prayerfully ask caring questions.
The Power of Story
Stories do more than entertain. They are valuable in building connection and expressing dignity and value. As we learn the art of exchanging stories, there's the potential for:
Improved relationships
Healing and inspiration
Making sense of life and seeing God's epic story in new ways
There's science behind this thinking. "Studies show how our brains are wired to respond to story. A story is the only way to activate parts in the brain so that a listener turns the story into their own idea and experience. Simply telling a story that illustrates your point engages people to connect with your ideas."1
Stories can also help shape our worldview and values. "Robert McKee, one of the world's foremost thinkers on story believes story calibrates a moral compass in our brains. He says it's from story we learn what to value in life, what's beautiful and what's banal, what to live for and what to die for."
And, if science and worldview don't convince you, consider Jesus, the greatest storyteller. He frequently spoke in stories and parables that help us better understand the real world. In fact, God calls us all to share His stories: "Publish His glorious deeds among the nations. Tell everyone about the amazing things He does" Psalm 96:3.
Before we get too carried away, it's worth pausing to remind ourselves that our stories are valuable, but not bigger than the greatest story. They are simply a fragment and a gift given by our creator. As we face family dynamics, potential disappointments and tight schedules this season, pray for one another to live out that humility and encouragement this Christmas.
"You don't really suppose, do you," the wizard asks the hobbit, 'that all your adventures and escapes were managed by mere luck, just for your sole benefit?' Gandalf continues, "You are a very fine person, Mr. Baggins, and I am very fond of you; but you are only quite a little fellow in a wide world after all!" To this Bilbo replies with happiness and humility, "Thank goodness!" The Hobbit
"'Don't the great tales never end?' asked Sam.
"No, they never end as tales,' replied Frodo. 'But the people in them come, and go when their part's ended. Our part will end later—or sooner,'" replies Frodo. The Lord of the Rings, The Two Towers
Christmas Stories
Listen to a few New Hope Church Christmas stories.


Lisa Severson, Communications Lead, is part of the Creative Team at New Hope Church. She loves road trips and exploring stories and artistic expressions that help draw people closer to God. Learn more about sharing your own creative background and story in communications, creative arts or sound and media.
1The Science Behind the art of Storytelling, Uri Hasson, Princeton University
2How to Tell a Story, StoryBrand