3000 Acts of Kindness Donation Drive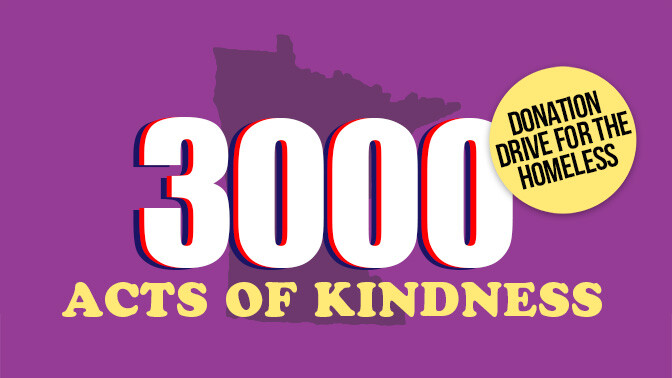 Collection Dates: October 3–10
Homelessness is growing in the Twin Cities and impacts individuals of all ages. This year, Coated In Love is hosting 3,000 Acts of Kindness, a one-day event on December 13, at the Minneapolis Convention Center. It will be a wonderful opportunity to provide a day of hope and dignity to 3,000 homeless individuals in the Twin Cities. Our goal is to provide each homeless individual with a meal, haircut, necessities, access to agencies who can help, and the opportunity to pray with a volunteer and learn about Jesus.
Join other churches from around the Twin Cities in providing basic necessities for people of all ages experiencing homelessness. Drop off new items to New Hope Church Main Campus.
Donation List:
Winter hats (all genders/sizes)
Winter gloves (all genders/sizes)
Socks (all genders/sizes)
Underwear (all genders/sizes)
Wash Cloths
Sleeping bags
Toothbrushes (trial size)
Toothpaste (trial size)
Shampoo/Conditioner (trial size)
Nail Clippers
Combs
Chapstick
Deodorant (trial size)
Antibacterial/Body Wipes (small packages)
Soap (trial size)
Feminine Products
To learn more about the 3000 Acts of Kindness event or to volunteer coatedinlove.org