Befriending Neighbors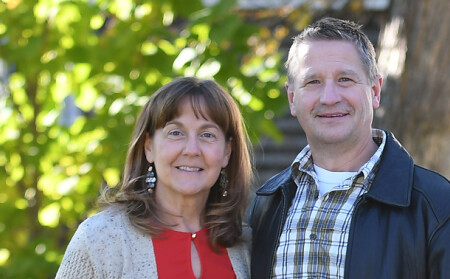 When a house went up for sale in their neighborhood, Theresa and Noah Palm asked God to help them connect with the new neighbors. The house sold and new neighbors moved in, but the Palms quickly discovered that the husband and wife didn't speak English. Crossing a language barrier with neighbors was new to Theresa, but she determined to not give up and asked God for more help.
God showed her clearly that she simply needed to smile and make them feel welcome. Kindness is universal. Theresa and Noah couldn't speak Farsi and this couple didn't speak much English, but everyone understood the welcome that was being communicated.
The initial smiles and waves across the yard built enough of a connection that Theresa took the step to deliver a dessert. That's when the neighbors welcomed Theresa inside. There, God crossed the language barrier as Theresa met their two university-age daughters who spoke fluent English.
One evening that entire family walked across the street to the Palms' home and asked to see the backyard. Amidst their conversation, one daughter translated her father's question, "How do you get your grass so green?" The families laughed together and lawn care techniques were shared.
These neighborly exchanges were simple, but each one opened the door to greater trust and confidence. When the mother and daughters left for Germany to attend a wedding this past summer, they asked the Palms to keep an eye on their father. Theresa and Noah enthusiastically said yes. As the family was leaving for the airport one of the daughters came to the Palms' door and pulled Theresa into an embrace, thanking her for looking after her father.
What started out as a question mark in Theresa's prayer resulted in a relationship where garden produce and desserts flow from one side of the street to the other.
Simple ways to create welcome
Ask God to give you opportunities to interact.
Go first! Be the one to start a conversation
Wave and smile.
Share your favorite dessert.
Offer to help rake leaves, shovel snow or loan tools.
Who has God given you as neighbors and how can you create a sense of welcome?

Cassie Davison Bair is Community Outreach Director at New Hope Church. Much of her free time is spent with her husband, Kyle, family and outdoor activities. She loves seeing how tending to the needs of others opens doors to relationships where gospel-centered conversations more naturally flow.