El Sabor Latino de Grupos Pequeños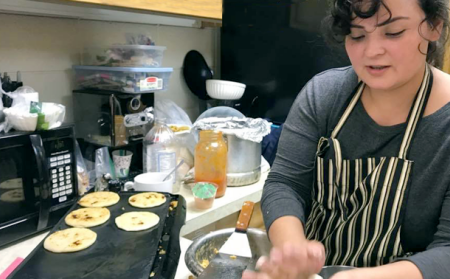 "El olor agradable a pupusas cocinando llena la casa. Es viernes y estamos entrando a la casa de una amiga de El Salvador para nuestro Grupo Pequeño al estudiar la Palabra de Dios. El calor familiar que se siente en nuestro grupo pequeño es un regalo de Dios ya que la semana ha sido larga. Los niños juegan y se reconectan." -Mike & Ingrid Brown, facilitadores de Grupos Pequeños
Algunos nos cuentan algo nuevo de su vida. Luego todos comemos las pupusas calientes. Alguien más ha traído atole Mexicano calientito y dulce.
Al abrir la palabra de Dios damos gracias al Señor por el grupo y vemos como Él ha contestado tantas oraciones. Una mamá está luchando con su salud, pero ahora tiene salud espiritual y un semblante lleno de paz con su creador. Unas entrevistas de trabajo siguen progresando. Vemos cambios algunas veces pequeños y otras veces profundos en las personas amadas por las que oramos y en nosotros. Vemos que nuestra fe se fortalece y al conocer más a Dios podemos confiar más en Él.
Luego de orar, abrimos la Biblia para estudiar el libro de Romanos. Una persona agradece al grupo por poder estudiar la palabra de Dios juntos ya que le alienta estudiar con otros. Nuestra charla mientras leemos lo que nos dice Dios es interactiva. Cada uno compartimos lo que vemos de la Palabra de Dios. El estudio termina, pero seguimos conversando un poco más. Es difícil decir adiós pero sabemos que ahora conocemos mejor a Dios y a nuestros hermanos. Agradecemos por estar en una comunidad como esta.
GRUPOS PEQUEÑOS
Una de las maneras donde usted puede crear relaciones fuertes en comunidad aquí en New Hope Church es por medio de Grupos Pequeños. Aprenda mas aquí.
CONTACTENOS
o 763-536-3267
LA IGLESIA NEW HOPE TIENE 46 GRUPOS PEQUEÑOS ACTIVOS Y 6 DE ELLOS ESTAN CONECTADOS EN EL MINISTERIO LATINO. UN PROMEDIO DE 70 PERSONAS ASISTEN A NUESTRO SERVICIO NHC EN ESPAÑOL LOS DOMINGOS POR LA MAÑANA EN NUESTRO HOPEBRIDGE CAMPUS. POR LO MENOS 14 PAISES ESTAN REPRESENTADOS EN ESTE MINISTERIO Y PARA LA MAYORIA DE LOS PARTICIPANTES EL ESPAÑOL ES SU PRIMER O SEGUNDO LENGUAJE. ¡CUAL SEA EL LENGUAJE QUE HABLAS, TE INVITAMOS A EXPERIMENTAR EL SABOR DE LA CULTURA LATINA Y A CREAR NUEVAS AMISTADES!
New Hope Church currently has 46 active Life Groups and six of these groups are connected to Latino Ministries. An average of nearly 70 people worship together at HopeBridge on Sunday mornings during our NHC en Español worship gathering. At least 14 countries are represented in this active ministry and many participants speak Spanish as their first or second language. Whatever language you speak, you're welcome to stop by to experience a taste of Latin culture and make new friends!