Explore Your Creative Side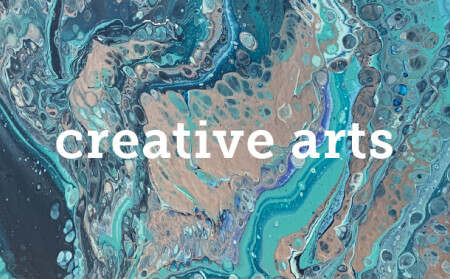 Typically I'd be planning the next Art Series at this time, but the COVID pandemic has halted those workshops among many other things in life. However, restrictions don't have to halt your creativity. In our home, it's been all about bread making. My husband, Tim, has become quite the master. Me? I've become the master of eating it! How about you? What are you doing to stay creative?
Some of the most creative works of art often come out of challenging circumstances. Can I encourage you to press into this season by exploring a new or forgotten artistic and spiritual endeavor? You may find it helps get you through a tough season—mentally, emotionally and spiritually. Or, you may even discover a new way to bless others or supplement your income.
Mary Anderson, a long-time New Hope Church attender, took the Creative Arts acrylic pouring workshop just over a year ago. God surprised her with His plans for her new artistic endeavors. Here's her story:
I had retired and was looking for something creative and productive to do. Little did I know God would bless me with a new hobby! After the workshop, I began watching YouTube videos and before I knew it, I was creating coasters, plaques and jewelry.
What I like about this art form is that the finished product can mean something different to every person who sees it. I've found that mixing colors is such a rewarding process as I watch them all work together. I'm very grateful to New Hope Church's Creative Arts ministry and Lisa Bodkin's encouragement.


Whether it's a new business or simply a means of prayer or relaxation, consider how you might explore creativity during this season in life.

De-stress. Coloring pages have been proven as a great way to take a vacation from stress, even if it's just 10 minutes. Don't worry if you cross the lines!
Something old. Pick up an old hobby like sketching, painting, writing, knitting, sewing, baking or playing an instrument. If you're under stress, you may wish to stick to a simple, creative activity that you're already familiar with.
Something new. If stress is less of a concern and you have a little extra time, take advantage and explore a new craft.
Pure pleasure. Do you feel guilty for "wasting time" with creative projects? Remember that God is the ultimate creator. He finds much joy and pleasure in all He has made, including you and me. He formed us in His likeness, so be assured you've been given creative gifts to enjoy.
My experience with art typically begins with personal enjoyment and learning. Then, as the piece progresses, many times I feel prompted to share it with others. Recently, I've been doing that with coloring pages. I find pure joy when my artwork blesses people. Pray about your own personal creativity and how God may want to use it in the lives of others.


Lisa Bodkin is the Arts and Interior Design Lead at New Hope Church. Her aim is to help engage the church and surrounding community through art and design. She enjoys encouraging women and men to express their God-given artistic talents to glorify Him and bless others.