From Brokenness to Forgiveness
Patrick Sonaram had never been in a church. When a co-worker invited him to New Hope Church, he was reluctant, but her persistence won him over. He describes how his brokenness and even rebellion had left wounds which kept him from a life of faith.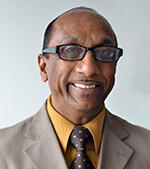 Christ's kindness and patience through several people at New Hope Church kept Patrick coming back. His faith has grown since he first showed up here and one important factor has been a strong connection to a Life Group. "I was immediately astonished by the warm welcome and authenticity. I am profoundly thankful for this group where God has surrounded me with loving disciples to assist in my growth."
As Patrick began to connect with others in the faith, God revealed forgiveness as a key to building godly relationships. "It's one of my new values as a follower of Christ." He points to biblical passages like Matthew 18, Acts 7 and Luke 23. These are pictures of believers forgiving in the midst of persecution or difficulty. Patrick is not only learning to forgive those who have hurt him in the past, but he's learning to forgive himself.
"Forgiving yourself can be the most difficult. But anger can turn to resentment and bitterness to unforgiveness. It becomes a cancer to your soul. This kind of forgiveness is a process. It doesn't happen overnight. But when I think of my life today with Jesus, compared to what it was without Him, it's so dramatically different. It took a lot to accept that I was forgiven by Him. When I finally took it in, I didn't just cry. I wept and wailed. It's ok. Even Jesus wept."
FORGIVING YOURSELF CAN BE THE MOST DIFFICULT. BUT ANGER CAN TURN TO RESENTMENT AND BITTERNESS TO UNFORGIVENESS. FORGIVENESS IS A PROCESS. IT DOESN'T HAPPEN OVERNIGHT.
Patrick talks about his involvement in Life Groups and the Mosaic community as healing as well as challenging. "It can be hard to cross racial differences. We have to humble ourselves to keep the conversations going and learn to truly value one another's identities."
Are you ready for the deep joys and encouragement, as well as the challenges of building community with others who may be quite different than you? Are you ready to invite the deep healing God offers each of us as we honestly face places of unforgiveness for ourselves and others? Pray about and check out these opportunities for healing, friendships, growth and support.
MOSAIC COMMUNITY
Meet with others who are focused on intentionally building new friendships among our increasingly diverse church family. We're made up of people from all different seasons of life and cultural backgrounds. Learn more.
LIFE GROUPS
Life Groups are Christ-centered small groups that gather to celebrate Christ, connect with people and contribute to our world. The groups offer a sense of belonging as authentic relationships are built based on mutual caring, serving and accountability. Learn more.
TRANSFORMING PRAYER
Transforming Prayer exposes deception in our thinking about ourselves, others and even God. In focused prayer we can ask him for courage to go to these broken areas of our life where the beliefs were embraced. There, we can experience his truth through the transforming work of the Holy Spirit. Learn more.