Is a Vision Trip Your Answer to Prayer?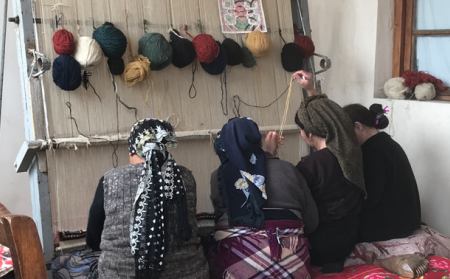 Do any of these sound like you? • I wonder if God is calling me to be involved in Global Ministries. • I've entertained the idea of going on a short-term ministry trip. • I'd like to be part of a group that intentionally prays for a region of the world. • I'm curious about joining a vision team that travels to a global region to pray and serve with local and foreign workers. If so, start praying. Global Action Teams and vision trips may be His answer for you.
NHC has three Global Action Teams (GAT). They focus on Europe, Asia and the Central Asia/Middle East North Africa (CAMENA) regions. These groups meet monthly to pray for the partners in these regions and develop caring relationships. Now is a great time to connect with Global Ministries. We're planning a vision trip to the Republic of Georgia and we're deepening our partnership with Grassroots Ministry Liberia.
LIBERIA, WEST AFRICA
New Hope Church has an opportunity to make a difference in poverty alleviation and church planting in Africa.
Community Health Evangelism (CHE) addresses poverty by partnering with local churches. They train individuals, families and communities to solve their own problems by using only resources and assets already available in their communities. The organization seeks to glorify God by helping people take steps toward living in godly relationships. It works because the communities take ownership of the process.
New Hope Church is developing a vision trip to Liberia for early 2019. The core purpose is to conduct a vision conference where pastors, church planters and other church and community leaders are trained in the CHE concept of development. The head of Grassroots Ministry Liberia, James Ngenda, is visiting NHC in June. Contact Global Ministries if you'd like to meet James and explore the Liberia ministry.
GEORGIA & AZERBAIJAN
Recently, connections to initiatives in the Caucasus countries of Azerbaijan and Georgia have opened exciting possibilities for New Hope Church to explore ministry partnerships.
Rahim Aghayev, an Azeri leader, and his family have been hosted by our church. You may have heard their stories recently at several Adult Sunday Communities.
Rahim is headed back to Azerbaijan soon and is interested in sharing what God is doing there. Vision trip participants can get an up-close look at how Idris Mammadov has planted more than 80 house churches. Many Azeris come to Christ through his Alov Network. There is an opening for us to partner with these leaders. We anticipate a vision trip for late 2018 or early 2019.
FROM RECENT VISION TEAM MEMBERS
"I came back with a renewed sense of admiration for the courage of our missionary partners and their love for Christ. Hearing their stories and being with them on the field helped build my faith and gave me opportunities to encourage and pray for them in a way that I could not do from a distance."

"It exposed us to the needs of Christians living in Lebanon and the surrounding Arab countries. We were touched by their humility, strength and courage. They want our prayers and their circumstances to be known."

"A bond formed through our mutual love for the same God and Savior Jesus Christ. We are brothers and sisters with them."
Herb Janes is Global Director, serving on the New Hope Church staff. "It's been an exciting opportunity to use, in the context of the church, the gifts, skills and abilities that the Lord has given me and that developed over a long business career."

Learn more about Global Ministries.