The Refugee Crisis: a Historic Opportunity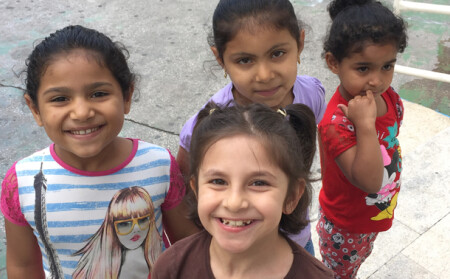 "The world is converging right here in our city." You may have heard Pastor Pablo Cachon say this in a recent message. This truth is on display in Minneapolis as well as in Beirut, Lebanon. Get involved in one of NHC's responses to the challenge
New Hope Church is engaged in both of these areas of the world. The massive global scale of displaced people (refugees) has created a way for New Hope Church to exhibit biblical compassion both locally and abroad. The door is open wider than ever to minister to and, consequently, reach highly restricted people groups. This is a unique and incredible window of opportunity in history.
Minneapolis
In collaboration with Arrive Ministries of Minnesota, groups from New Hope Church have volunteered to help refugees get established during the crucial first year of their life here. "Welcome Teams," including Life Groups, Global Action Teams and Adult Sunday Communities, are working together to extend help to these families. The teams have stepped into God's transformative work in the lives of their new friends. They frequently find God uses the experience to also change themselves as they engage in His kingdom work that reaches around the world.
We went into this refugee ministry knowing it would uncomfortable with different languages and customs. We embraced that and, after a time, that awkwardness gave way to comfort and familiarity.
Lebanon
God is raising up key national movement leaders who present partnership opportunities to western churches like NHC in order to scale up the impact. While meeting human needs is a primary concern, the Free Evangelical Association in Lebanon (FEAL) is diligent to avoid solely becoming a humanitarian effort. Leader, Joseph Najem, puts it this way, "Many groups provide humanitarian services. We need to go beyond that and offer the Bread of Life." Many refugees are coming to Christ as a result of the compassion work of FEAL. We're joining in this effort by providing support that enhances the capacity of FEAL to reach more of the 1.5 million Syrian refugees.
The refugee challenge isn't going away anytime soon. Ask God how you might get involved in this historic opportunity. Pray for our ministry partners and be open to understanding the scale of the refugee crisis. This problem needs a God-sized resolution.
Get involved in one of NHC's responses to the challenge:
Form or participate in a current welcome team.
Sponsor a GlobalFingerprints child in Lebanon.
Join the new Global Action Team (GAT) focused on the Middle East region.
Be part of the vision trip to Lebanon this October.


Herb Janes is Global Director, serving on the New Hope Church staff. "It's been an exciting opportunity to use, in the context of the church, the gifts, skills and abilities that the Lord has given me and that developed over a long business career."

Learn more about Global Ministries.