Making a Big Church Feel Smaller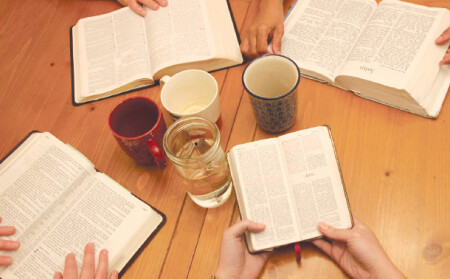 You're surrounded by people, yet feel alone. Do you ever experience that in the church lobby or at a worship gathering? What does it take for a big church to feel smaller? For strangers to feel like friends and family?
I know I need connection. Inviting someone out for coffee, a walk or shared activity is a good place to start with relationships. But I've noticed that something changes when I invite people into my home or I'm welcomed into theirs.
The closeness I have with someone is often related to whether or not we've been in each other's spaces. I rejoiced recently when I realized I no longer needed GPS to get to the home of a woman in my small group. I had been there enough over the past year that she had moved from stranger to familiar to friend. Church feels smaller when we've heard stories and shared life with someone in their space.
Joining a smaller community at church is a good start. Meet some new people. Really listen to one other and share something you have in common. Bible reading, motherhood or the desire to be discipled are possible common interests. Try a Bible study, MOPS or Real Roots and discover where you connect with others.

"The best way to feel connected in a large church is to get involved. For me, the church didn't seem so big after joining a smaller community and the relationships that have developed from Precepts have been of great importance in my life. It's easy to invest in NHC now that I have new friendships and a deeper love and appreciation for the people here." Naomi Blomberg


Andrea Tyson is Women's Ministries Director at New Hope Church. She loves to invest in women who are investing in others as we continue to develop a culture of walking toward Jesus and taking others with us.

Learn more about Women's Ministries.